August 9, 2020: Our hours and availability have updated! Please click here for the latest information.
Beginning June 17, the Old Depot Museum and the Franklin County Records & Research Center will phase into reopening with appointments during limited hours.
Museums and archives face special challenges during a pandemic because artifacts and archives cannot be sanitized without risking permanent harm to the object. Limiting exposure and allowing time for viruses and bacteria to die off naturally is an important line of defense in keeping staff, volunteers, visitors, and artifacts safe.
Beginning June 17, the Old Depot Museum will be open to visitors by appointment on Wednesdays and Saturdays from 11 a.m. to 3 p.m. Exhibits have been modified to promote a healthier experience, and visitors are encouraged to wear masks to minimize impact on our artifacts.
Beginning June 17, the Franklin County Records & Research center will be open to researchers by appointment on Wednesdays from 9 a.m. to Noon and 1 p.m. to 4 p.m. for two-hour blocks of time. Masks must be worn by visitors examining archival materials or artifacts.
Because social distancing is not possible in Dietrich Cabin, the cabin will remain closed at this time.
As a thank you for your continued support, FCHS members will receive first shot at appointments to visit the Old Depot Museum in June.
To schedule an appointment, please call the Records Center at (785) 242-1232. Please note that as county/state guidelines change, the availability of our buildings may change.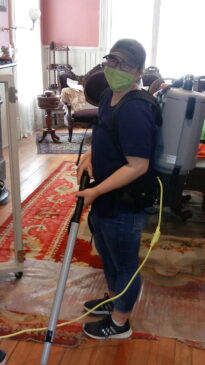 Preparing to Reopen the Depot
Here's what we're doing in the days leading up to our reopening:
Deep cleaning. Our staff is in the process of dusting every single artifact on display, cleaning every glass and plexiglass case, and sweeping every floor. The General Store exhibit alone took nearly 25 staff hours.
Bringing in new artifacts. During your next visit, you'll discover that we've changed out some artifacts on display for artifacts that were in storage.
New exhibits. We're working on two new temporary exhibits and improving permanent exhibits in 2020.
Reconfiguring exhibits to reduce touch surfaces. To protect our visitors, we're changing the way you experience some exhibits.