Now available for researchers and genealogists!
Maybe you're curious about the subjects your great-great-grandmother studied as an elementary school student. Or you're writing an article about the history of rural teachers' salaries. Or perhaps your master's thesis focuses on the challenges of maintaining a country school during the Dust Bowl. How do you find the information you need?
The Franklin County Historical Society might have the data you're looking for.

Thanks in part to a Kansas Humanities Council Heritage Grant, FCHS was able to sort, organize, and properly store thousands of documents in its collection of school records that have been donated to the historical society over the years. Information that was once piled into a closet is now accessible and searchable using digital devices instead of trying to sort through thousands of paper documents. With the use of an alternative to efilecabinet all this information is now compiled and sorted into various categories for easier management and retrieval.
What kind of information is available?
Teacher Reports to the County Superintendent, 1906-1960s
During Franklin County's history, 103 school districts were formed, most of them one-room schools. Rural school teacher reports include lists of students by year and the grades students received, as well as other special notes. FCHS holdings include 29 boxes and 21 binders or reports.
School-Specific Records
There are numerous records available to show what was required to maintain a school: treasurer's books, clerk's records, annual meeting minutes, rural school directories, consolidation reports, and some teacher information. FCHS holdings include 32 boxes of records.
Superintendent Notes
During the 1800s, superintendents maintained information in folios. Data available includes notes from rural school visits, information on teachers employed in rural schools, information on those taking teacher certification exams, etc. FCHS holdings include two large folios.
Other Rural School Information
Additional school consolidation information, treasurer's records, and other miscellaneous documents are also available in this collection.
Why did it take so long to make this information available?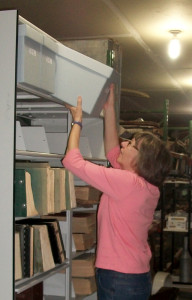 Some of the rural school records have been held by the Franklin County Historical Society for decades. The bulk of the collection was in storage in the Franklin County Clerk's Office and came to us nine years ago. Until recently, FCHS didn't have the staff, space, or materials needed to make this collection accessible.
In 2014, FCHS received a Kansas Humanities Council Heritage Grant. This grant made it possible to hire retired Ottawa Middle School librarian Gloria Kruse to sort and organize the historic materials. FCHS was also able to purchase acid-free storage boxes, which will help protect the documents for years to come. The shelving units were donated by Dr. Kenneth Frank of Ottawa, Kansas.
With the staff and storage materials in place, FCHS was finally in a position to effectively examine, sort, document, and organize thousands of materials in order to make them usable by researchers.
Would you like to learn more about the Franklin County Rural School Records collection?
Contact the Franklin County Records and Research Center by calling (785) 242-1232 or using our Contact form.