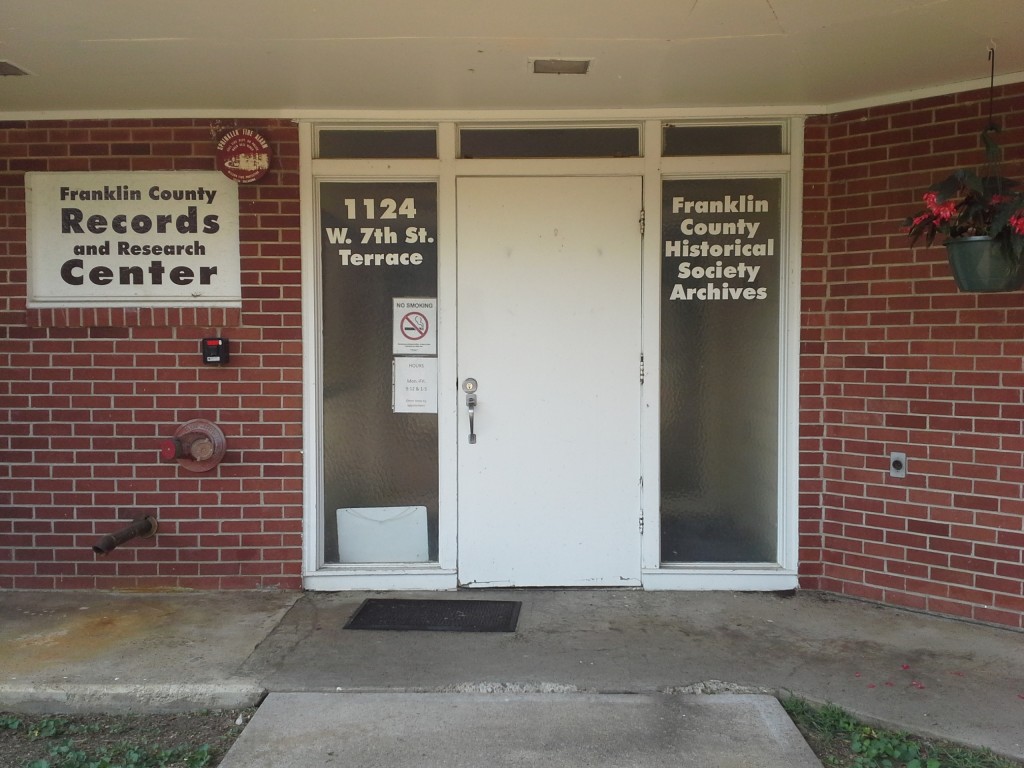 Location:
1124 W 7th Street Terrace, Ottawa, Kansas, 66067
phone: (785) 242-1232
fax: (785) 242-1267
COVID-19 Hours:
We have expanded our hours at the Old Depot Museum and the Franklin County Records & Research Center. Please note that these hours and restrictions may change or be updated as state/local mandates require throughout the COVID-19 pandemic.
Please note that museums and archives face special challenges during a pandemic because artifacts and archives cannot be sanitized without risking permanent harm to the object. Limiting exposure and allowing time for viruses and bacteria to die off naturally is an important line of defense in keeping staff, volunteers, visitors, and artifacts safe.
Franklin County Records Center Hours & Restrictions 
Monday through Friday: 9 a.m. to Noon; 1 p.m. to 5 p.m.
Restrictions:
Appointments are required for all researchers.
For the latest information on COVID-19 restrictions, including mask requirements, please click here.
The historical society is once again accepting donations of artifacts and archival materials. Please call (785) 242-1232 or email collectionsmanager@olddepotmuseum.org to make donation arrangements.
How is the Franklin County Records and Research Center different from the Old Depot Museum?
The Franklin County Historical Society is home to more than 30,000 photographs and 30,000 objects and archival documents. Only a very small portion of this collection is on display at the Old Depot Museum at any given time. The rest of the collection is safely housed at the Franklin County Records and Research Center. The Records Center also houses searchable biographical files, school records, and other information useful to researchers and genealogists. The building is open to the public, and visitors are always welcome. Two of our biggest collections include the J.B. Muecke Photographs and the Rural School Records of Franklin County.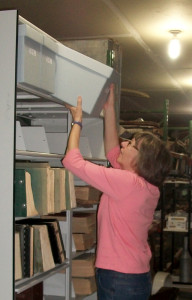 What kinds of materials can be found at the Records Center?
The archives at the Records Center contain the records of the Grand Army of the Republic and many City of Ottawa, Franklin County, school and legal records. Kansas Historical Society recently gave us the hard copies their collection of Franklin County newspapers. The Records Center holds numerous examples of original 19th and 20th century greeting cards, trade cards, certificates, diplomas, stock certificates, and business papers. Databases of the Early Settlers file from Ottawa Library and many indexes of vital records, census, and books make FCHS's collection well-rounded.
Is the Records Center open to researchers and genealogists?
The Records Center houses many artifacts, documents, and photographs that provide valuable information to genealogists and researchers. If you are working on a specific research project, it is helpful if you call ahead to let our staff know so that we are prepared to give you the best assistance possible.
Does the Records Center charge admission/fees for research assistance?
Admission to the Records Center is free. Research assistance is generally offered at no charge. We charge nominal fees for photocopies and digital scans.
To schedule an appointment
Will the FCHS grant permission to use photos/images/documents for print/media/film?
Our ability to grant permission varies with the materials in question, but the FCHS does have a fee schedule designed to help recover the costs of our time and effort to locate and properly scan materials for publication. Please contact Diana Staresinic-Deane at (785) 242-1232 or e-mail director@olddepotmuseum.org.
Does the Records Center have speakers available for schools and community events?
Through our day-to-day research, our Records Center staff members have become experts on many Franklin County topics! If you're interested in having us speak about history, research, or the museum industry at your club, event, or school, please contact us at (785) 242-1232 or director@olddepotmuseum.org.
Do you have questions for the Franklin County Historical Society?
Call (785) 242-1232 or use our Contact form.