Read at your leisure, or click below to find information fast: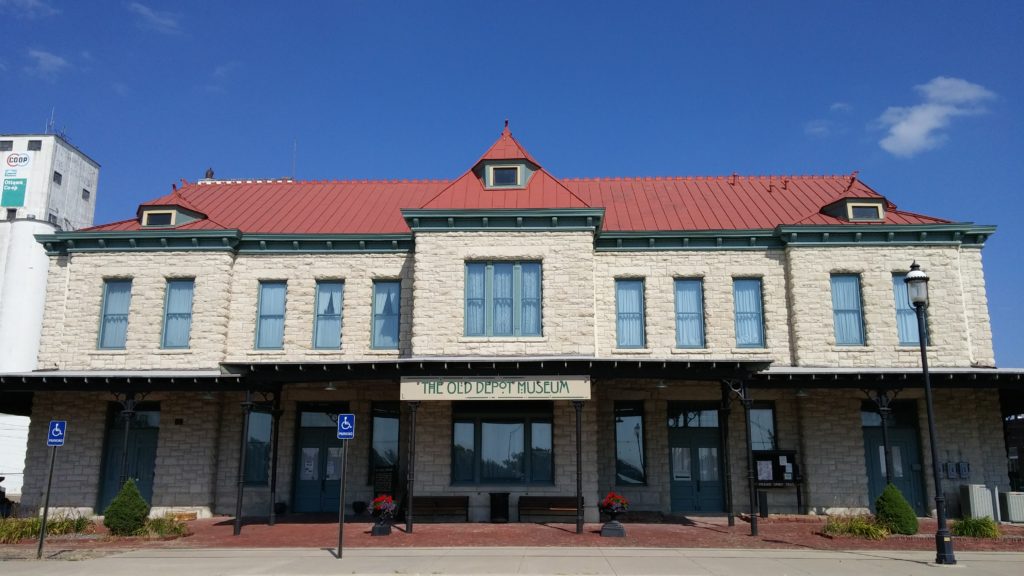 Location and Parking:
135 West Tecumseh, Ottawa, Kansas 66067
(785) 242-1250
By Car: Free parking is available in the lot on the west side of the museum.
By Foot or Bicycle: The museum is the northernmost trailhead for the Prairie Spirit Trail. Flint Hills Trail users can reach the museum using the Prairie Spirit Trail bridge that crosses the Marais des Cygnes River from First and Walnut streets.
2020 Old Depot Museum Hours:
Beginning June 17, the Old Depot Museum will be open to visitors by appointment on Wednesdays and Saturdays from 11 a.m. to 3 p.m. Exhibits have been modified to promote a healthier experience, and visitors are encouraged to wear masks to minimize impact on our artifacts. Please call (785) 242-1232 to make an appointment.
Sunday: 1:00 p.m. to 4:00 p.m.
Monday: CLOSED
Tuesday through Saturday: 10:00 a.m. to 4:00 p.m.
CLOSED on these 2020 holidays: Annual Meeting Day (January 26), Easter (April 12), Independence Day (July 4), Thanksgiving Day (November 26), Black Friday (November 27), Christmas Eve (December 24), Christmas Day (December 25), New Year's Eve (December 31, and New Year's Day (January 1)
Admission:
Adults: $5
Seniors 55+: $4
Students (of any age): $2
Preschoolers: Free
Franklin County Historical Society Members: Free
Active Military Personnel and their families: Free Armed Forces Day (May 16) through Labor Day (September 7) as part of the Blue Star Museum program
Franklin County Free Days: Admission is free to all Franklin County residents on the second Sunday of each month
Group Rates: $4 per person. Available for parties of 10 or more with an advanced reservation.
One-Room School Program: Click here for rates and programming details.
History of the Depot
In 1868, the Leavenworth, Lawrence and Galveston (LL&G) became the first railroad to reach Ottawa, Kansas. Shortly thereafter, the line was sold to the Kansas City, Lawrence, and Southern Kansas Railroad, who hired architect George Washburn to design the depot that still stands today. The building's stone was quarried in Cowley County, which is in southeast Kansas.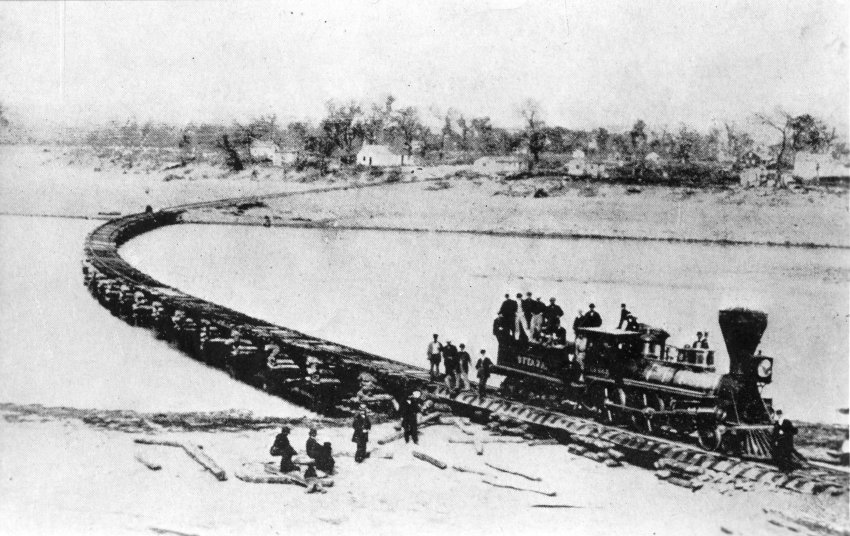 Soon after its construction in 1888, the Santa Fe bought the Southern Kansas line and the depot became a Santa Fe Division Headquarters. The depot included a 13-stall roundhouse where engines were repaired, a freight depot, and a Railway Express Agency (an express shipping service). Unfortunately, before the levee system was installed, the depot was at the mercy of the Marais des Cygnes River, which flooded frequently. As the need for passenger service declined, the 1888 depot fell out of use, and passenger service moved to a smaller building north of town before being discontinued entirely.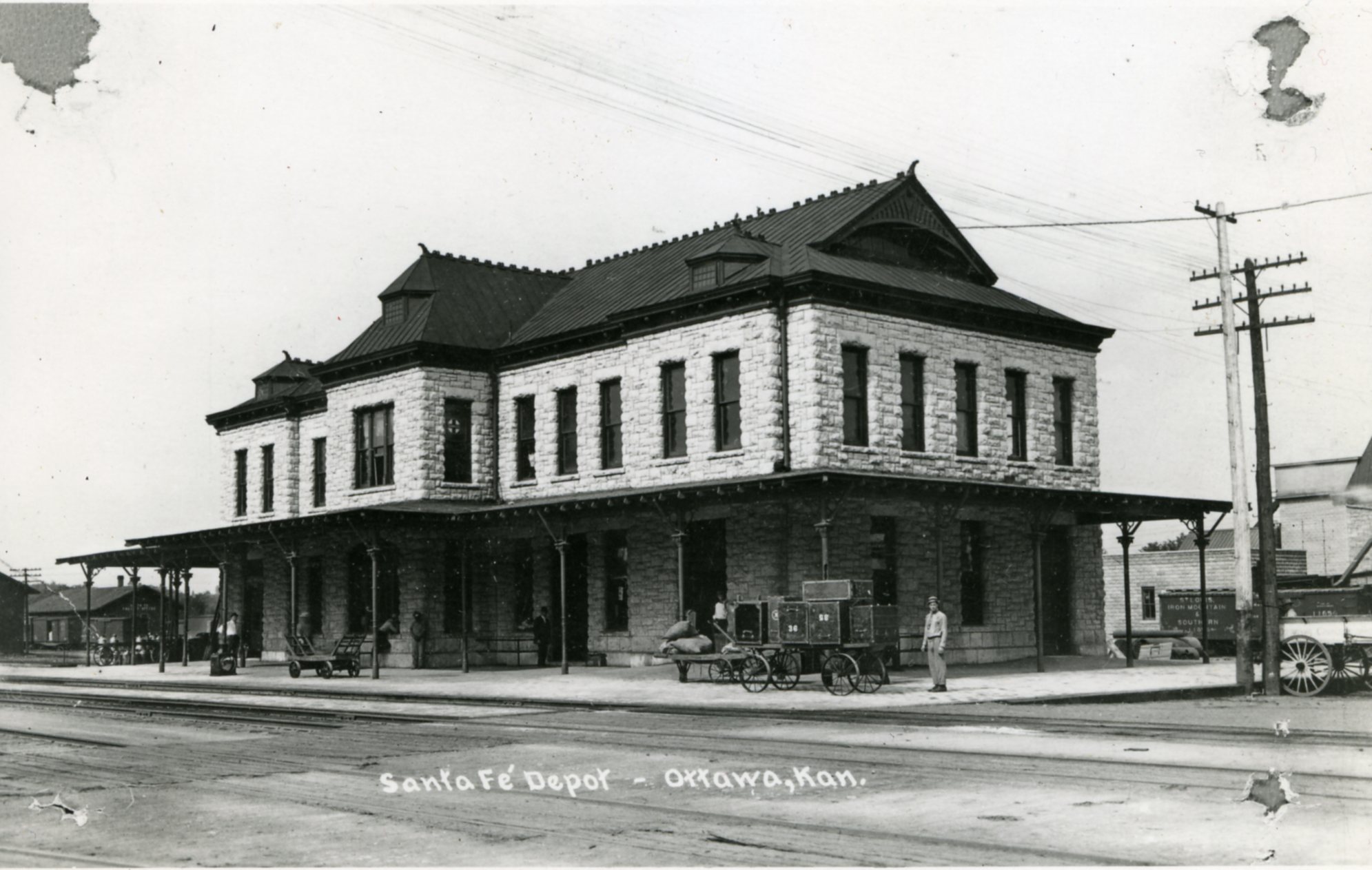 Becoming a Museum
In 1962, the depot was donated to the Franklin County Historical Society, which reopened the depot's doors in 1963 as the Old Depot Museum. In 1996, the Franklin County Historical Society received an ISTEA grant, and the building underwent major rehabilitation before reopening in 1999.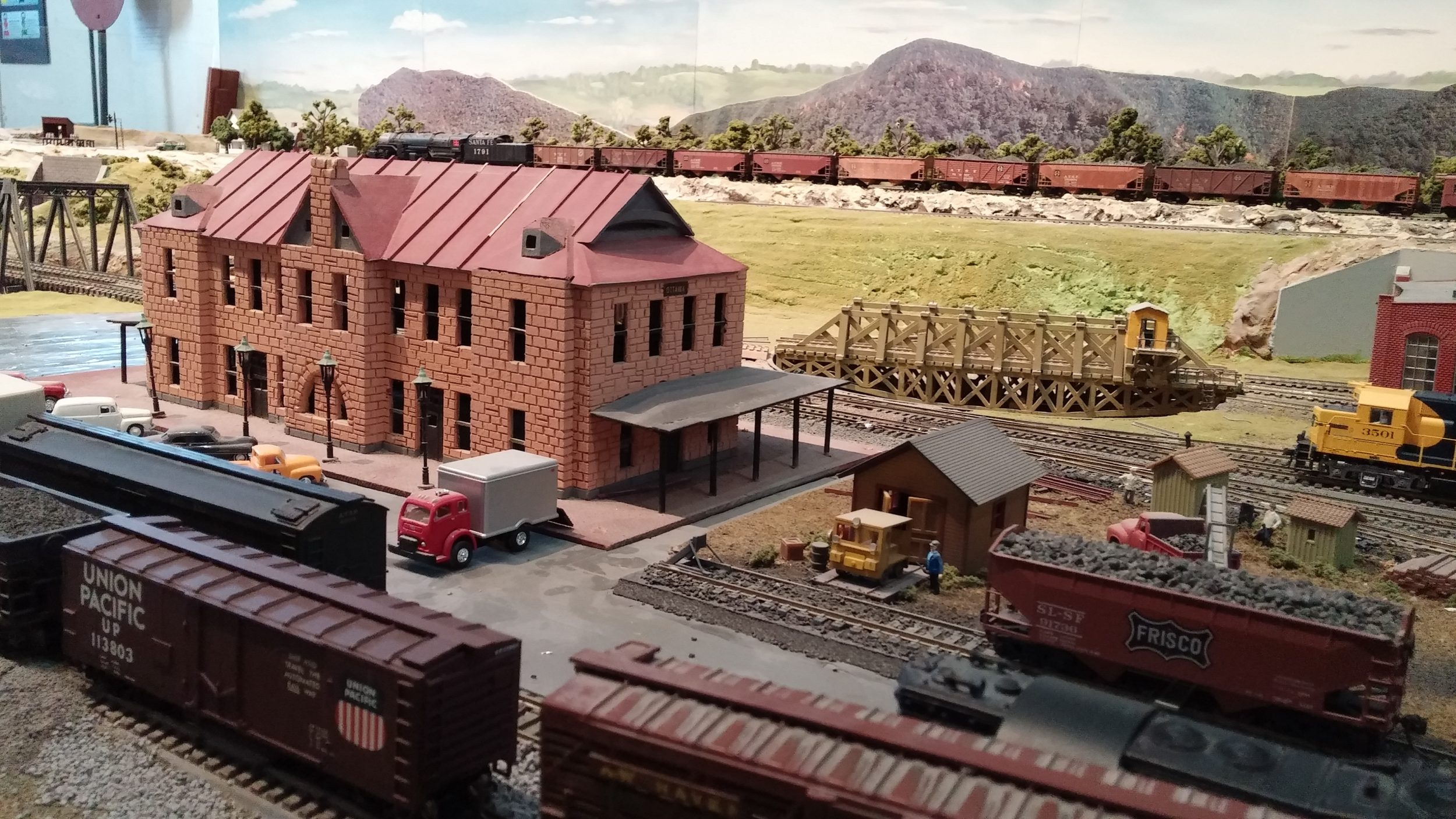 The two-story museum includes exhibits on Native American tribes, the Pottawatomie Massacre, the exaggerated photography of William "Dad" Martin, local industry, and historic examples of daily life in Franklin County (a turn-of-the-century general store, farm kitchen, Victorian parlor, soda fountain). One entire room is dedicated to an HO-scale model railroad layout designed to replicate the sites of 1950s Franklin County.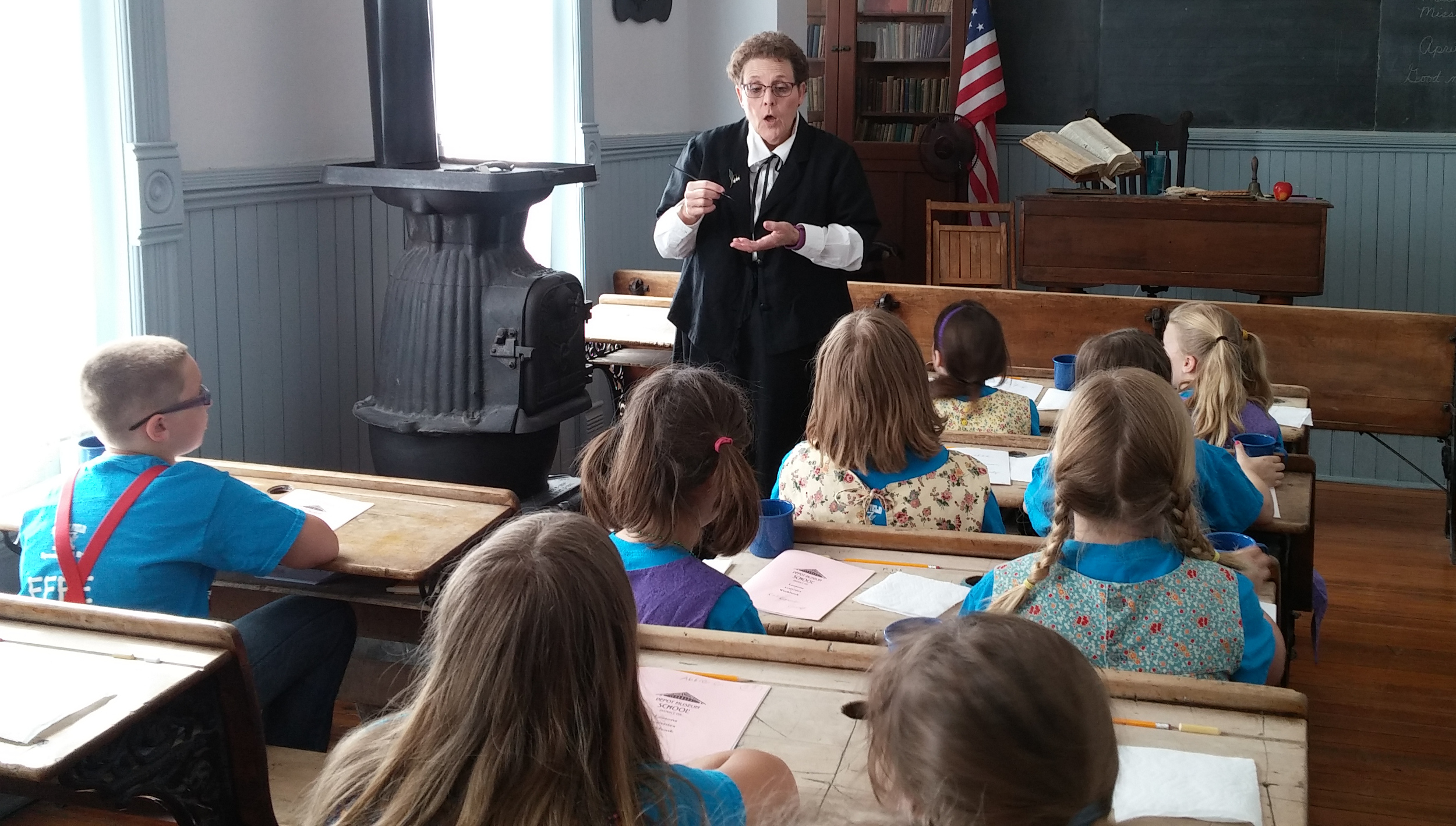 Our one-room school exhibit also serves as the setting for our One-Room School Program, where students are invited to dress in pinafores and suspenders and experience a day in school–complete with academic, behavioral, and recreational expectations–just as a child would have in 1910.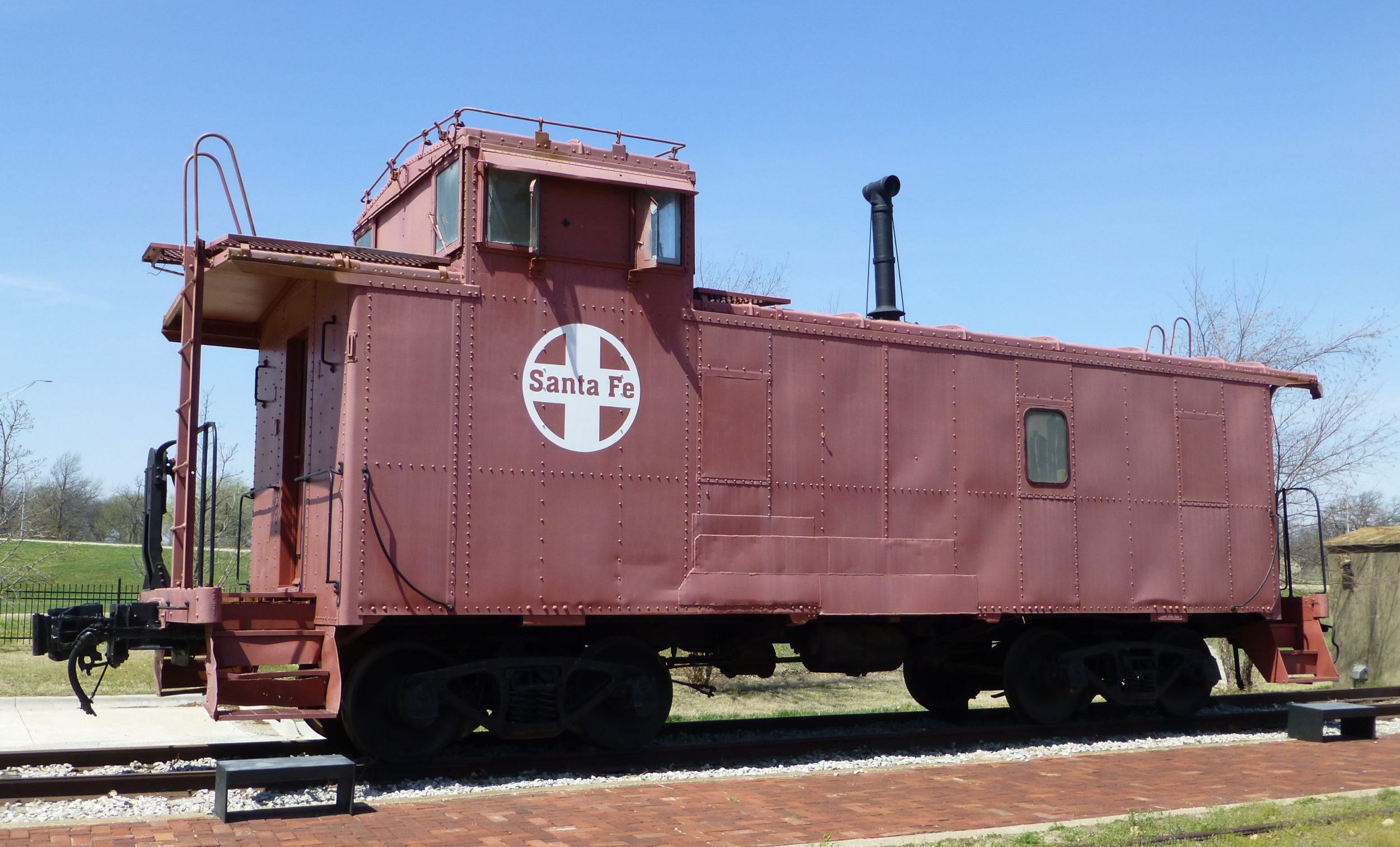 Just outside the depot is a 1940s caboose, which was donated to the Franklin County Historical Society in 2012.
The large first-floor gallery features temporary exhibits. Recent exhibits have included historic Franklin County photographers, Franklin County's contribution to World War I, Fred Harvey and the history of the Harvey Houses, historic textiles, local baseball, secret societies, and the history of the Marais des Cygnes River.
The depot also hosts numerous events throughout the year. Many events are free and all are open to the public. To learn about our events, visit our Upcoming Events page, follow us on Facebook or Twitter, or sign up for our monthly newsletter.
The museum is a member of Freedom's Frontier National Heritage Area. The museum is also a member of the Kansas Museums Association and the Kansas Historical Society.
Planning Your Visit: Frequent Questions
Are guided tours available?
It's easy to enjoy the museum on your own, but if you'd prefer a guided tour, please call us at (785) 242-1250 or use the Contact form to set up a reservation. Please note that because of the layout of the museum, it's very difficult to conduct a guided tour for more than 15 people at a time.
Do I have to make advance reservations to visit the museum?
You do not need a reservation to visit the museum during normal hours. However, if you would like to schedule a tour or be eligible for a special group rate (for groups of 10 or more), please contact the museum in advance.
How long does it take to see the museum?
We've had people take hours, and we feature a 45-minute video of Ottawa in the 1930s, but one can get a good look at the 12 exhibit rooms in about an hour.
Is the museum ADA accessible?
All but one room is ADA accessible. An elevator provides access to the second floor, and restrooms are accessible.
How often do the temporary exhibits change?
On average, we rotate the exhibits in the temporary gallery three times a year.
Are there volunteer and internship opportunities at the museum?
Yes! We have volunteer and internship opportunities at the Old Depot Museum, the Franklin County Records & Research Center, and Dietrich Cabin. To learn more about volunteering, contact Diana Staresinic-Deane at (785) 242-1250 or director (at) olddepotmuseum.org.
How do I find out what other events or sites there are to see in Franklin County?
Visit the Franklin County Visitors Center in person or online.
Save