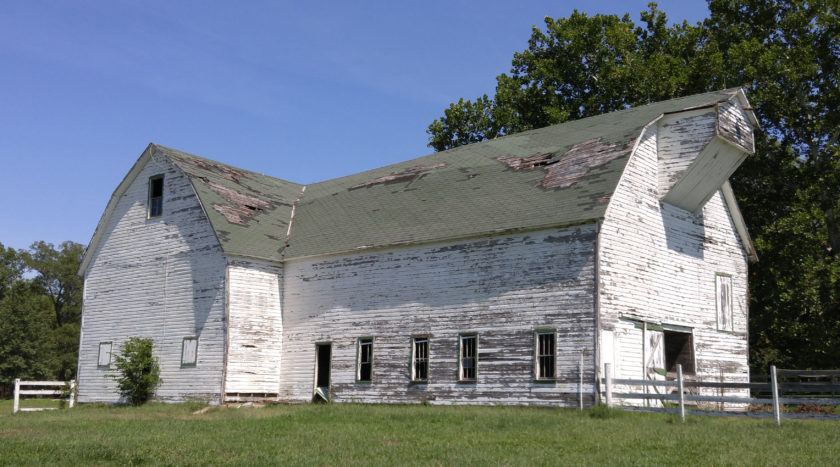 Barn Project Update
May 24, 2018
Thank you to everyone who has expressed an interest in the possible restoration of the 1894 Hatfield-Wolf-Bowers barn in Franklin County, Kansas.
After months of research, inspections, and investigation, our Franklin County Historical Society Board of Trustees voted not to pursue the acquisition of the 1894 Hatfield-Wolf-Bowers barn, located near the corner of Seventh Street and Eisenhower Road just outside of Ottawa, Kansas.
In 2017, the Bowers family approached the Franklin County Historical Society about the possibility of donating the barn and some land to the historical society. We saw a potential opportunity to develop an agricultural museum and meeting/educational space. When we asked for financial assistance to "mothball" the building to slow the deterioration process and stabilize the structure while we developed a vision and a plan, several community members stepped forward to offer their support, most especially Charles Gillette of Ottawa, Kansas. We began thinking of ideas such as how we could install essential fixtures and fittings like a heating system, gooseneck barn lights, and plumbing, for example, so that the space could be used by the community.
Before we could accept the gift of the barn and begin fundraising, we met with county and city officials to learn more about the property and what options were available with regards access, utilities, infrastructure, and drainage. We learned that the 500-year flood plain runs right through the barn, and the 100-year flood plain laps at its feet. We knew then that we couldn't use it for an agricultural museum, because we couldn't put artifacts-many of which are heirlooms donated to us by the citizens of Franklin County-at risk.
We weren't ready to give up, though, and we brought in a structural engineer to evaluate the barn and explain to us what needed to be done to stabilize the structure, which could then potentially help us develop alternative uses for the building.
The structural engineer's report was a crucial component in FCHS's decision not to move forward. We learned that the original construction was itself a significant threat to the building's integrity, and the barn would require a substantial amount of work just to stabilize the structure.
After studying the structural report and recognizing that we would not be able to use the building in the way we had hoped, we came to the difficult conclusion that the barn isn't the right project for the historical society. Our ultimate goal is to continue to improve our ability to protect Franklin County's artifacts and serve our community, and our concern was that this project would spread our resources thinner without improving our programming or ability to interpret local history.
We are incredibly grateful to the Bowers family for their generous spirit and to everyone in our community who expressed an interest in this project and offered their support. We especially want to acknowledge Charles Gillette, whose contribution made it possible to consider this project. We also want to thank everyone at the city and the county who gave us their time and energy these past few months.
Franklin County has reaffirmed an appreciation for local history, and we hope our community will continue to support the historical society's efforts.