On Sunday, September 10, the Old Depot Museum will launch a new exhibit that explores what life was like for Kansans on the Home Front during World War II.  The museum will be open from 1 p.m. to 4 p.m. for the grand opening. Admission will be free for all visitors that day.
Using artifacts and photographs, "Home Front in the Heartland, Revisited," examines the patriotism and sacrifice typical of Midwesterners during the early 1940s. War bond ads, ration books, a Red Cross uniform and patriotic posters will all be on display.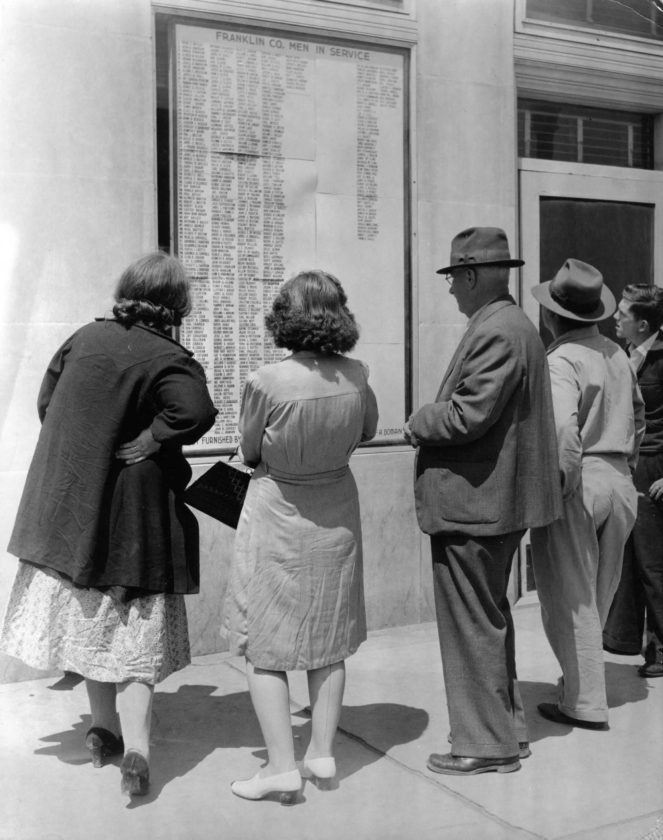 The highlight of the exhibit will be the photographs of J.B. Muecke (sometimes spelled Mickey), a freelance photographer whose work was frequently published in the Ottawa Herald. Muecke, whose photographs captured everyday moments of life in a small town, created iconic images of Midwesterners "doing their bit" to support the country's struggle against the Axis Powers.
Photographs show men standing around a diner counter, listening to FDR's Pearl Harbor speech; young children with overloaded wagons participating in paper drives; farmers collecting scrap metal from their fields; and Boy Scouts and Girls Scouts supporting war bond rallies.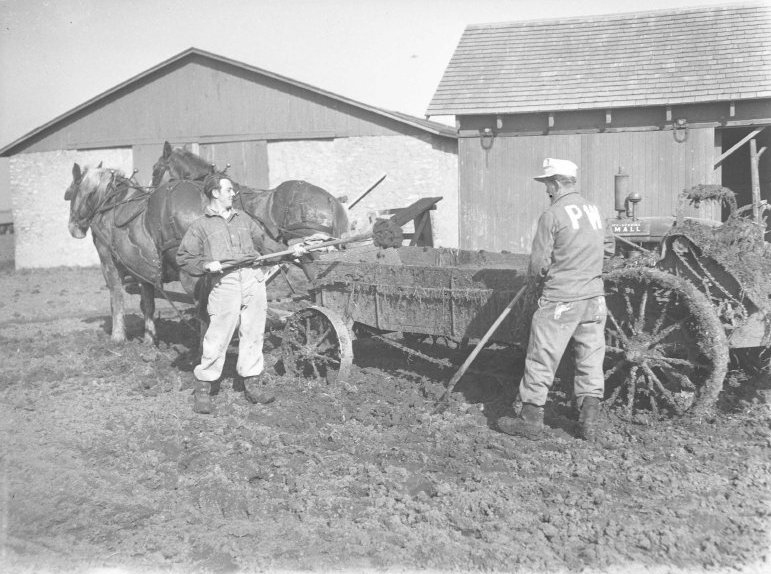 The exhibit also includes the experience of German POWs housed in Franklin County. Muecke's photographs show many of these POWs laboring on farms while local young men are serving overseas. Some of these POWs developed positive relationships with Franklin Countians and remained in touch long after returning to their homeland. A collection of letters from POWs to their Franklin County friends will also be on display.
Many of J.B. Muecke's photos were nearly lost. E. Morgan Williams, originally from Ottawa, purchased a box of decaying negatives stored in a dirt-floored basement before Muecke died in 1985. Williams donated the 6,000 images to the Franklin County Historical Society, where Assistant Archivist Ashley Brannan spent three years scanning and attempting to identify subject matter in the photos.
In 2015, the Kansas Humanities Council awarded FCHS a grant that enabled the historical society to partner with noted Kansas historian and longtime Kansas History editor Virgil Dean and Henry Fortunato, a visiting fellow at the Hall Center for the Humanities at the University of Kansas, in order to better study and interpret the early 1940s images.
The exhibit will remain on display through November 12. For more information, call (785) 242-1250 or use our Contact form.