Something Old: Franklin County Wedding Dresses, 1848-1971
Saturday, June 22, 3 p.m. to 6 p.m.
Carnegie Cultural Arts Center, 501 South Main, Ottawa, Kansas
Tickets: $23 in advance, $25 at the door. Click here to purchase tickets online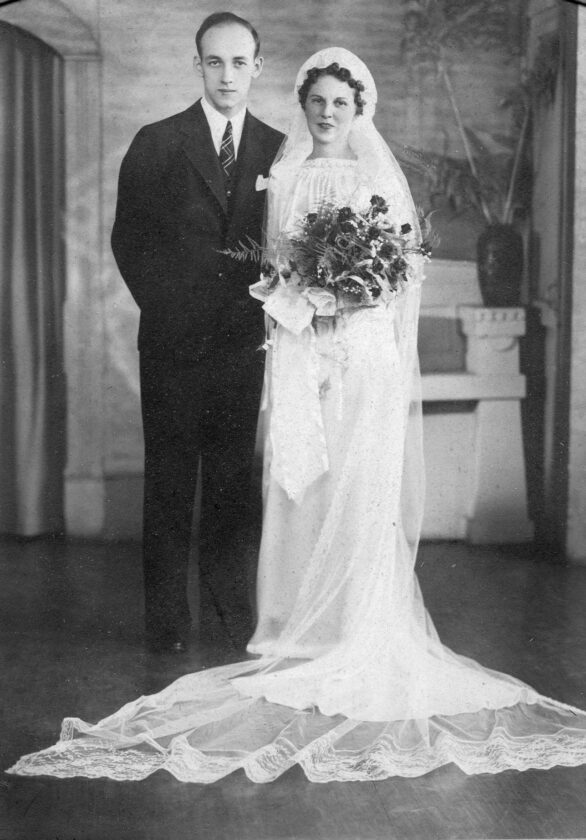 Ottawa, Kansas— On June 22, the Franklin County Historical Society will host a one-day exhibit of more than 120 years of bridalwear history to raise funds for the care and management of the historical society's collection. "Something Old: Franklin County Wedding Dresses, 1848-1971" will be on exhibit at the Carnegie Cultural Center, 501 South Main, Ottawa, Kansas, from 3 p.m. to 6 p.m. Tickets are $23 in advance and $25 at the door.
"Wedding dresses reflect not only the story of the bride, but also the tastes, dreams, and realities of the era," said Diana Staresinic-Deane, FCHS executive director. Many late 19th and early 20th century wedding dresses were designed to be worn again. During the 1940s, rationing and shortages of good fabrics forced brides to wear practical dresses or suits they already owned or would wear in the future. During the 1950s, celebrities like Grace Kelly inspired princess gowns with full skirts and long trains—dresses only meant to be worn once.
Because textiles—anything made from cloth of woven fabric—are challenging to protect while on display, many of these dresses have not been publicly displayed in recent years. During the past two months, historical society staff members and volunteers have custom built mannequin forms and gently prepared each gown for its big day on June 22.
"It's been a lot of work, but also a lot of fun watching these dresses come alive after being stored in boxes for years," said Gloria Kruse, FCHS collections manager. "The fabrics are gorgeous."
Some of the dresses known to be worn by Franklin County women include
two-piece organdy dress worn by Laura (Wickard) Triplett in 1902
hand-sewn ivory satin and Chantilly lace gown worn by Gertrude (Secrest) Barlow in 1911
blue velvet gown worn by Mabel (Jamison) Elder in 1913
Royal blue crepe dress with a dropped waist worn by Hattie (Metz) McWhirter in 1926
A-line ivory satin gown with train worn by Dorothy (Ogg) Waring in 1937
Chiffon silk dress with satin slip and satin cape worn by Byrnina Brooks Socolofsky in 1941
Princess-style gown worn by Harma (Peterson) McKenzie in 1945 and her daughter, Karen (McKenzie) McAdoo, in 1975
Brown wool wedding suit worn by Elizabeth (Nichols) Page in 1947
organdy dress with bouffant hoop-style skirt worn by Alice (Hostetter) DeFries in 1951
lace gown with satin and netting underlay worn by Martha (Barnes) Larson in 1954
lace and tulle gown worn by Ruby (Froggatte) Murrow in 1963
satin dress with Alençon lace appliqué highlighted with beads and crystals made by Ivy Curby and worn by Vicki (Kelley) Rhoades in 1966
organza and satin dress worn by Anne (Geiss) Delse in 1971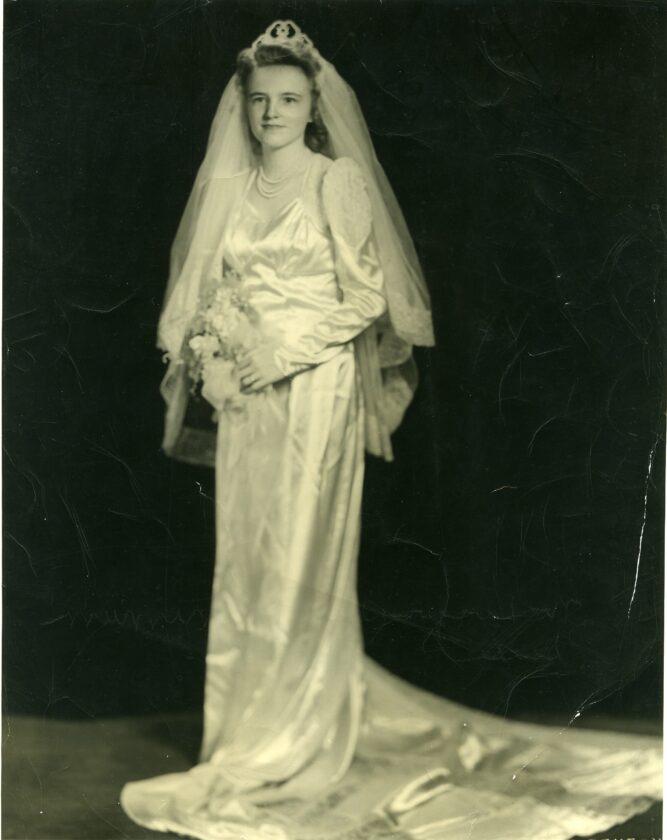 One of the most spectacular dresses is an 1890s gown whose bride is unknown: a silk/wool-blend embroidered gray satin dress with large "leg of mutton" sleeves.
The event will include short presentations on the history and composition of each dress, bobbin lacemaking demonstrations, and information about the challenges of preserving textiles.
"One of the historical society's goals is to give our textiles the best care we can so that we can extend the lifespan of each artifact for as long as possible. We want future generations to have the opportunity to see and learn from historic clothing and other practical and artistic pieces made from fabric. To do this, we need trained staff and volunteers and the materials and facilities needed to catalog, conserve, maintain, and properly store our textiles artifacts," said Staresinic-Deane.
The historical society will also display photographs, wedding invitations and announcements, and other ephemera connected to each dress as well as to Franklin County brides in general.
This event was made possible thanks in part to the support of the Ottawa Community Arts Council, Trendel Lumber Company, Turner Flowers, and MaKenna Schultz.
Tickets are available online or in person at the Old Depot Museum, 135 West Tecumseh, Ottawa, Kansas. For more information, call (785) 242-1250 or e-mail Diana Staresinic-Deane.