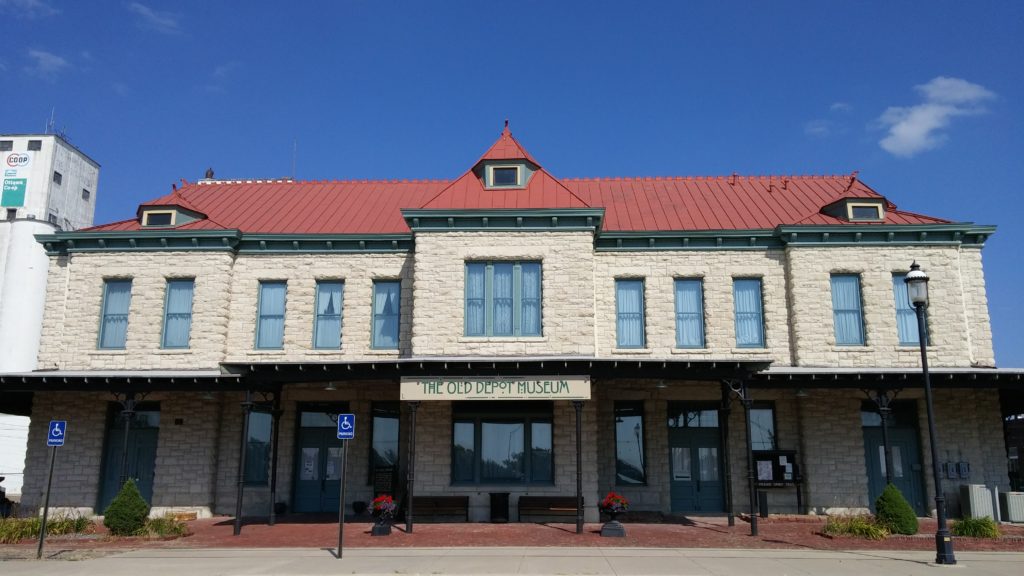 Location and Parking:
135 West Tecumseh, Ottawa, Kansas 66067
(785) 242-1250
Free parking is available in the lot on the west side of the museum.
2017 Old Depot Museum Hours:
Sunday: 1:00 p.m. to 4:00 p.m.
Monday: CLOSED
Tuesday through Saturday: 10:00 a.m. to 4:00 p.m.
CLOSED Annual Meeting Day (January 22), Easter (April 16),  Independence Day (July 4), Thanksgiving Day (November 23) , Black Friday (November 24), Christmas Eve (December 24), Christmas Day (December 25), New Year's Eve (December 31), and New Year's Day (January 1)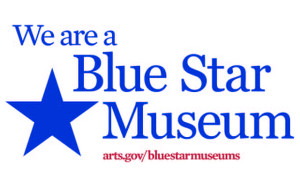 New Admission Rates (beginning July 1, 2017):
Adults: $5
Seniors 55+: $4
Students (of any age): $2
Preschoolers: Free
Franklin County Historical Society Members: Free
Active Military Personnel and their families: Free from Memorial Day through Labor Day
Free Second Sundays: Admission to the Old Depot Museum is free to all guests on the Second Sunday of July and August 2017.
Franklin County Free Days: Beginning September 2017, the second Sunday of the month will be free for all Franklin County, Kansas, residents.
One-Room School Program: Click here for rates and programming details.
History of the Depot
In 1868, the Leavenworth, Lawrence and Galveston (LL&G) became the first railroad to reach Ottawa, Kansas. Shortly thereafter, the line was sold to the Kansas City, Lawrence, and Southern Kansas Railroad, who hired architect George Washburn to design the depot that still stands today. The building's stone was quarried in Cowley County, which is in southeast Kansas.
Soon after its construction in 1888, the Santa Fe bought the Southern Kansas line and the depot became a Santa Fe Division Headquarters. The depot included a 13-stall roundhouse
where engines were repaired, a freight depot, and a Railway Express Agency (an express shipping service). Unfortunately, before the levee system was installed, the depot was at the mercy of the Marais des Cygnes River, which flooded frequently. As the need for passenger service declined, the 1888 depot fell out of use, and passenger service moved to a smaller building north of town before being discontinued entirely.
Becoming a Museum
In 1962, the depot was donated to the Franklin County Historical Society, which reopened the depot's doors in 1963 as the Old Depot Museum. In 1996, the Franklin County Historical Society received an ISTEA grant, and the building underwent major rehabilitation before reopening in 1999.
The two-story museum includes exhibits on Native American tribes, the Pottawatomie Massacre, the exaggerated photography of William "Dad" Martin, local industry, and historic examples of daily life in Franklin County (a turn-of-the-century general store, farm kitchen, Victorian parlor, soda fountain). One entire room is dedicated to an HO-scale model railroad layout designed to replicate the sites of 1950s Franklin County.
Our one-room school exhibit also serves as the setting for our One-Room School Program, where students are invited to dress in pinafores and suspenders and experience a day in school–complete with academic, behavioral, and recreational expectations–just as a child would have in 1910.
Just outside the depot is a 1940s caboose, which was donated to the Franklin County Historical Society in 2012.
The large first-floor gallery features temporary exhibits. Recent exhibits have included historic Franklin County photographers, Franklin County's contribution to World War I, Fred Harvey and the history of the Harvey Houses, historic textiles, local baseball and secret societies.
The depot also hosts numerous events throughout the year. Many events are free and all are open to the public. To learn about our events, visit our Upcoming Events page, follow us on Facebook or Twitter, or sign up for our monthly newsletter.
The museum is a member of Freedom's Frontier National Heritage Area.
Save
Share this: