Pioneer Days at the Little Cabin 2018
Dietrich Cabin, City Park, 5th and Main, Ottawa, KS
A summer camp for kids ages 7 to 12
Session 1: May 21, 22, 23 (MTW)
Session 2: June 6, 7, 8 (WThF)
Session 3: June 12, 13,1 4 (TWTh)
See below for camp fees and registration deadlines.
Space is still available in Session 3! The deadline has been extended until June 1, 2018.
Take a trip back in time and learn what it was like to live in a cabin. Dress, eat, work, and play like a real pioneer! During Pioneer Days, you'll be adopted into a pioneer family and work together, trying out pioneer chores and playing pioneer games!
Day 1: homes & family life
Tour the 1859 Dietrich Cabin and learn about the daily life and clothing of a pioneer! Talk to historical reenactors and check out the clothes and household goods of the day. You and your pioneer family will make bread, homemade dolls, and play games like kids used to in the olden days. We'll even eat some authentic grub for snacks, too!
Day 2: Work & chores
Wear your workin' clothes and your runnin' shoes and plan to get dirty! Day two is about chores, and we'll be digging, planting, rocking babies, hauling water, washing clothes, sewing buttons, and gathering firewood—but it will be fun because pioneer families will compete for prizes! Make butter for the bread you baked on Day 1, and sample jams, marmalades, molasses, and honey. Learn how to spin and card wool. Make something out of yarn to take home.
Day 3: play & socializing
Pioneers worked awfully hard, but everybody needs to have some fun! On Day 3, we'll play old-timey games, hear some fiddle music and do some square dancing. There will be storytelling, checker tournaments, sewing, and painting—and no get-togethers would be right without dessert! We'll learn how to cook in a Dutch oven and eat pie and cobbler. We'll have some knee-slappin' good times!
Do we have to use an outhouse?
We might be trying out life as pioneers, but we won't have to dig an outhouse! We'll get to borrow the modern facilities at the Ottawa Community Arts Council in the Carnegie Building next to the cabin. If it rains, we'll have camp there instead of at Dietrich Cabin.
Camp Details
All children between the ages of 7 and 12 are welcome! Register for a full 3-Day Camp or, if space is available, join us for just a day. As spaces fill up, preference will be given to campers registering for the 3-Day experience.
3-Day Camp Costs:
$40 per camper for Franklin County Historical Society members
$45 per camper for non-FCHS members
1-Day Camp Costs:
$20 per camper for Franklin County Historical Society members
$25 per camper for non-FCHS members
Registration Deadlines:
May 4, 2018—Last day to register for Session 1 (May 21, 22, 23)
May 18, 2018—Last day to register for Session 2 (June 6, 7, 8)

June 1

–Last day to register for Session 3 (June 12, 13, 14)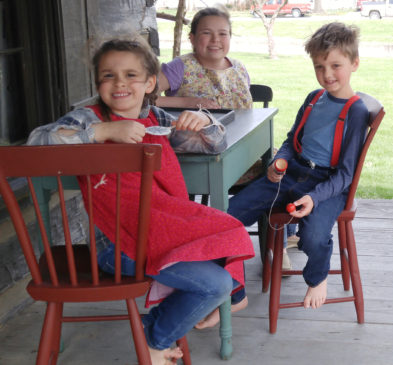 A medical release treatment authorization form must be completed prior to camp attendance.
No more than 16 children may register for each session. We cannot accommodate unregistered guests. Campers should arrive between 8:55 a.m. and 9 a.m. and be picked up no later than noon.
Students who demonstrate extremely disruptive or dangerous behavior will forfeit the rest of their camp experience.
Please be aware that most of our activities will be done in and around a 159-year-old cabin that is not wheelchair accessible.
If you have questions or concerns, please contact Bequi Hicks, Education Coordinator, at (785) 418-5652 or learn@olddepotmuseum.org.
Reserve your space today!
To sign up for Pioneer Days, download this form and return it to us by mail or in person.
Mail this form and your check made payable to the Franklin County Historical Society to FCHS, Attn: Bequi Hicks, PO BOX 145, Ottawa, KS, 66067.
Hand-deliver this form and payment to the Old Depot Museum, 135 West Tecumseh, Ottawa, KS. The museum can accept cash, check, or credit card payments.