History is all around us. Our spring exhibit explored the role history plays in our lives, and we wanted to create special programs to help our community members discover their own connection to history. FCHS Executive Director Deborah Barker introduced family history and FCHS resources to a new group of researchers during Genealogy 101 on March 12. Old Depot Museum Director Diana Staresinic-Deane shared her passion for the history of buildings during Researching the History of Your Home and the People Who've Lived There on April 9.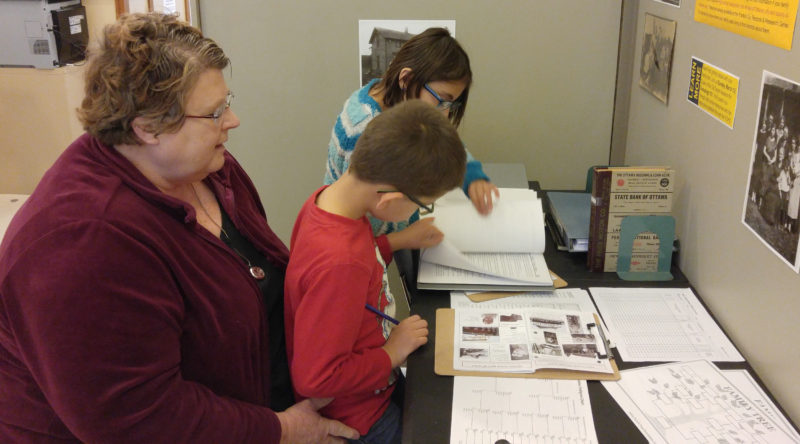 Museum visitors explore some of the historical society's genealogical resources during our 2017 spring exhibit, "Historically Significant: How History Shapes Us, Our Communities, and Our Future."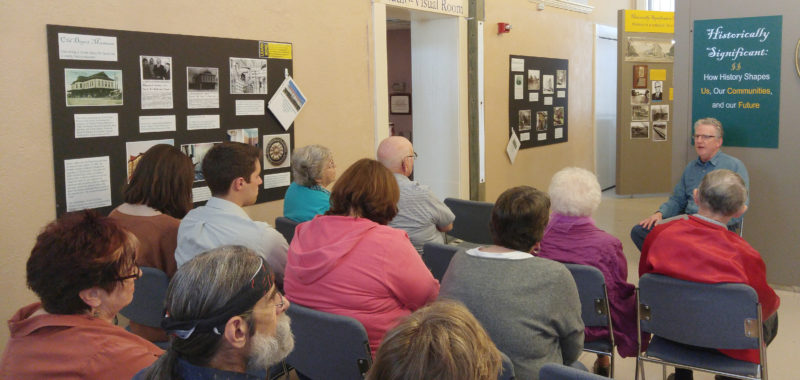 Architect Michael Cornwell talked about rehabilitating the historic depot that houses the Old Depot Museum during New Life for Old Buildings: Meeting Preservation Standards on April 2.
Historic buildings can be reborn. We love historic architecture, but we didn't want to offer just any house tour. When the Duderstadt family suggested opening the doors to the 1899 house they were renovating, we saw an amazing teaching opportunity. A team of volunteers and staff members taught 348 visitors about the history of the house built by Lyman Reid, why the Duderstadts decided to save it from the wrecking ball, and the decisions that go into restoring a historic structure.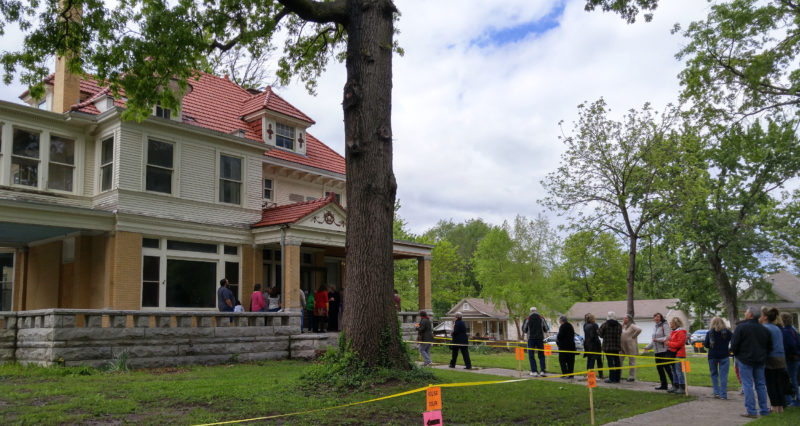 Visitors swapped house remodeling stories while waiting in line for the Reid-Duderstadt House Tour on April 30.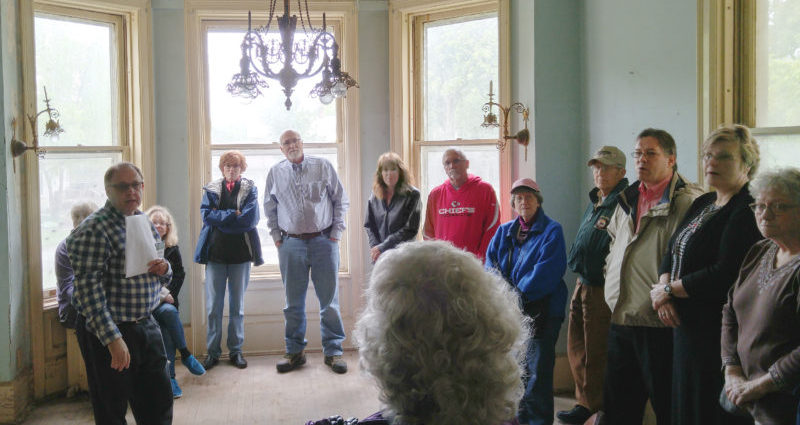 The river is life. The history of Franklin County is a history of the Marais des Cygnes River. Our Summer 2017 exhibit examined our love/hate relationship with water—how we need it, how we care for it, and how we try to control it. Thanks to the City of Ottawa, community members were invited to learn about what we do to make water safe to drink during tours of the water treatment and water reclamation plants on June 16. Staff from the Kansas Water Office presented Water for Tomorrow: A Long-Term Vision for Water Supply in Central Kansas on June 8, and historian Jay Antle talked about Irrigation in Kansas on July 6.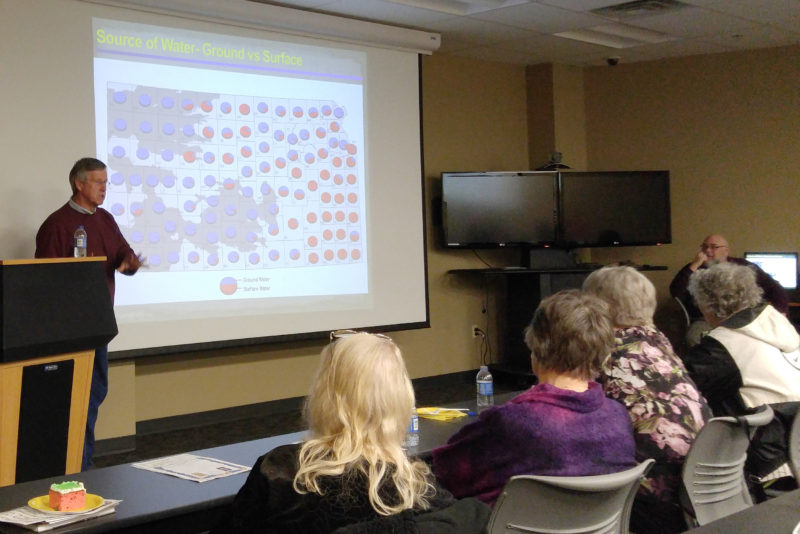 Thank you! Crossings: Getting Over, Around, and Through Water in Franklin County would not have been possible without the support of the following partners: Water/Ways; Kansas Humanities Council; Ottawa Library; City of Ottawa; Franklin County Convention & Visitors Bureau; Franklin County, Kansas; Water Systems Engineering.
History inspires local and global leaders. When America entered World War II, Americans stepped forward to serve and contribute. Franklin Countians collected scrap metal, rationed everything from flour to gasoline, bought war bonds, and donated money and supplies to the Red Cross. Through it all, J.B. Muecke was photographing these moments of sacrifice and patriotism. His photos were featured in our fall 2017 exhibit, "Home Front in the Heartland, Revisited," which was made possible thanks in part to the Kansas Humanities Council.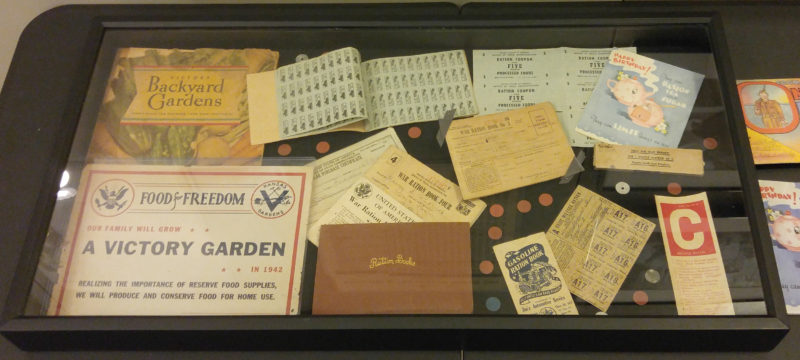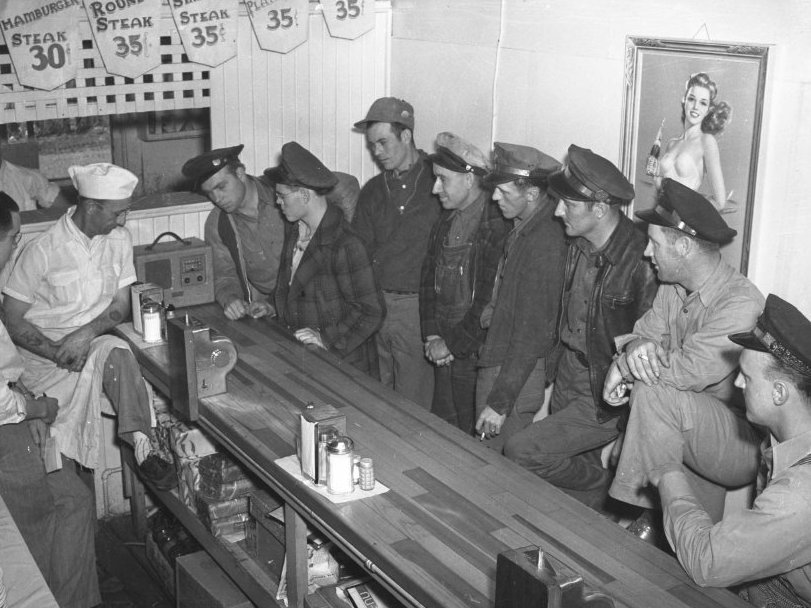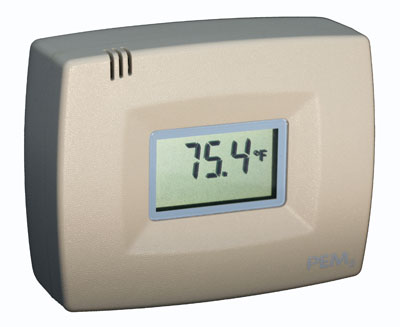 Without preserving history, we leave no legacy to future generations. One of the greatest challenges museums and historical societies face is maintaining an environment that will protect the artifacts within their walls. Lighting, humidity, and temperature can be harmful to delicate objects like textiles and paper. But the sensitive equipment needed to monitor conditions can be expensive.
Thanks to a preservation grant from the National Endowment for the Humanities, FCHS was able to purchase 10 data loggers that constantly record temperature and humidity. This information will be collected for one year and then used to make adjustments in our museum and storage spaces. FCHS was also able to purchase two vacuum cleaners designed to safely clean artifacts in the museum.
Generous grants help us preserve local history. The 1859 Dietrich Cabin is FCHS's first museum and is an artifact in its own right. Until this fall, the cabin lacked any consistent climate control, which meant that the artifacts inside were subjected to extreme temperatures—not the best circumstances for protecting historic objects. Thanks to a grant from the Christopher Brandon Wasser Memorial Fund, the Franklin County Historical Society is in the process of installing a discreet HVAC system in the cabin. Climate control will not only improve conditions for our artifacts, but also make it possible for the historical society to hold programming at the cabin all year long.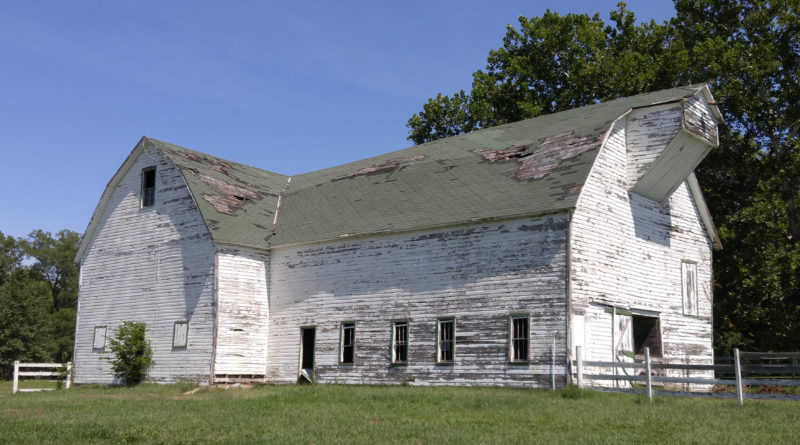 Help us protect Franklin County's agricultural history by saving this barn. In 2017, the FCHS Board of Trustees voted to take the first steps toward saving the historic 1894 Hatfield-Wolf-Bowers barn. This landmark barn on the western edge of Ottawa has reached a critical point in its history. It is in major need of repair and restoration. This iconic Franklin County structure can also be repurposed to serve as an agricultural museum and event space. The Bowers are donating the barn to the historical society, and thanks in part to a major gift from Franklin County resident Charles Gillette, enough funding has been raised to "mothball" it to prevent further deterioration while funds are raised for the major structural repair. Click here to learn more about this barn.
Here are a few things you get for supporting FCHS.
In addition to feeling great about supporting the kinds of programs and exhibits mentioned above, members receive
Free Admission to the Old Depot Museum any day the museum is open
10% off at the Old Depot Museum Store
Coupons for free or discounted tickets to special events and programs
Did we mention the warm fuzzies for supporting a great organization?
Membership Levels:
| | |
| --- | --- |
| Student Level | $10.00 |
| Individual Level | $25.00 |
| Family Level | $45.00 |
| 1937 Level | $75.00 |
| A.P. Elder Level | $125.00 |
| Cabin 150th Level | $150.00 |
| Ben Park Level | $250.00 |
| Jacob Dietrich Level | $500.00 |
| Trainmaster Level | $1,000.00 |
| Isaac Kalloch Level | $5,000.00 |
Questions? Call (785) 242-1232 or email Ashley Brannan.