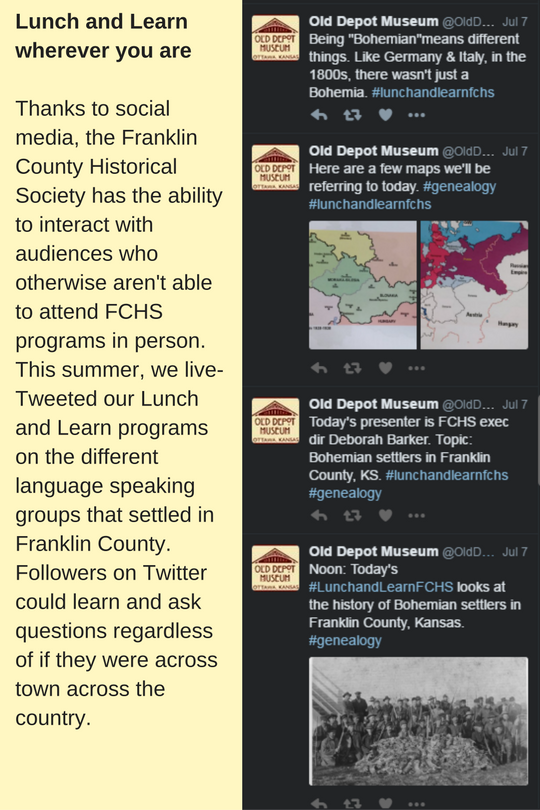 Did you know…
Membership dollars help fund new exhibits, programming, artifact preservation, and facilities repairs.
In 2016, nearly 3,000 people toured three major exhibits at the Old Depot Museum.
In 2016, the Franklin County Historical Society hosted 25 events, including several brand-new programs.
In 2016, the FCHS's Facebook audience grew to 1,600, and its posts were seen more than 500,000 times.
In 2016, more than 250 people participated in our first-ever cemetery tour at Hope Cemetery in Ottawa.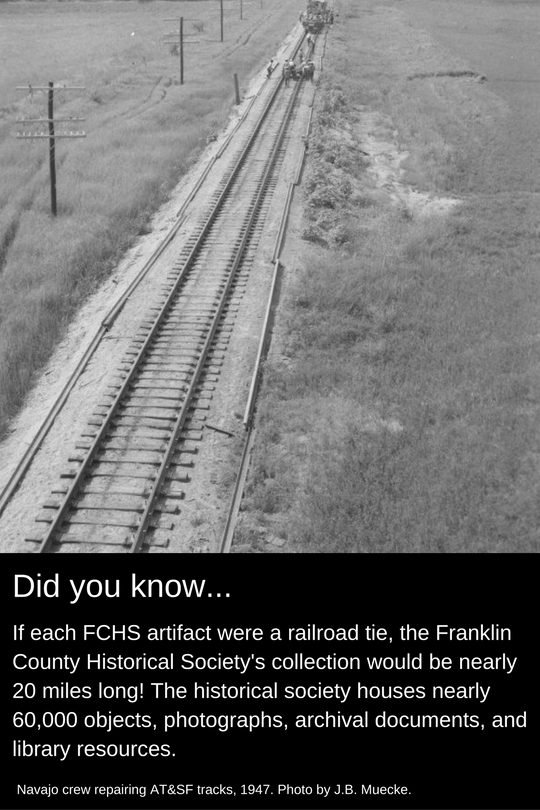 As of the end of 2016, the Franklin County Historical society houses nearly 60,000 artifacts–12,250 objects, 27,963 photographs, 14,650 archival documents, and 1,922 library resources.
In 2016, the FCHS partnered with Ottawa Library to offer storytime and crafts at the Old Depot Museum. More than 150 kids and kids at heart attended Christmas Storytime at the Old Depot Museum.
In 2016, the FCHS partnered with the Plaza Cinema to offer special historic films and documentaries. Town Teams: Bigger than Baseball was shown during our Small-Town Ball exhibit in June. The 1925/9 silent film Phantom of the Opera was offered with a live musical score in October.
Membership dollars helped make 2016 a great year for FCHS!
Here's what's coming in 2017: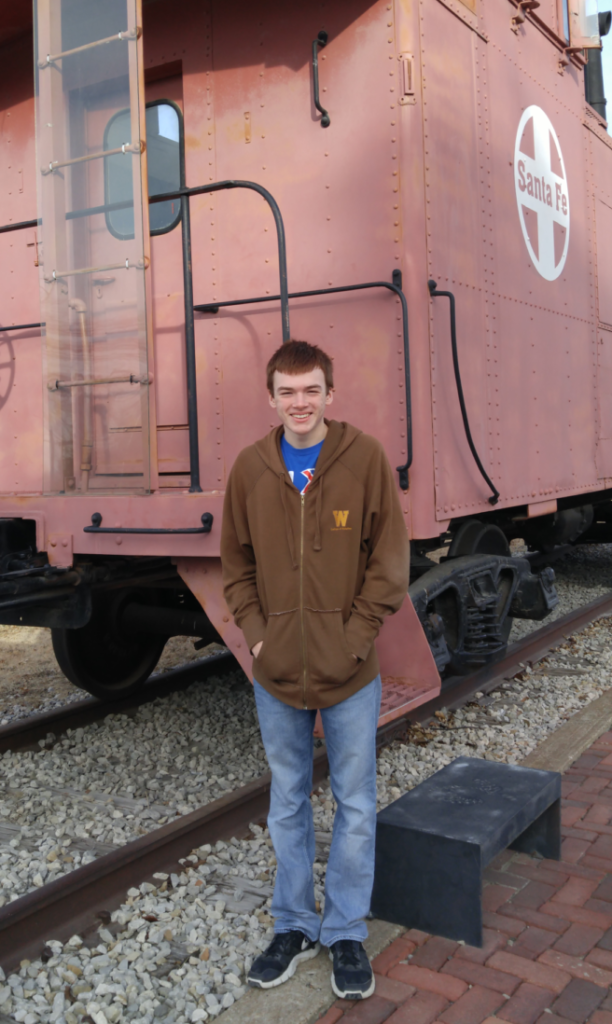 Better care for our artifacts. Thanks in part to a Preservation Assistance Grant from the National Endowment for the Humanities, the Franklin County Historical Society will have funds to purchase equipment to better monitor and protect artifacts in both the museum and archives. New purchases will include humidity and light-damage monitors for exhibit cases and a backpack vacuum designed to safely clean around artifacts. FCHS membership dollars enable the purchase of additional equipment and ability to correct problems detected by monitoring.
Caboose Restoration. With a background in volunteering for the Indiana Transportation Museum, intern Will Hazen was a natural fit for researching the Old Depot Museum's 1940s caboose. Hazen, who is studying aviation flight science and public history at Western Michigan University, identified (after removing 1,400 lbs of non-original building materials by hand) as a CE-5 class Santa Fe number 999962. His recommendations will guide the caboose's future restoration and permanent exhibit development.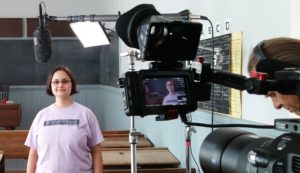 The Old Depot Museum will be featured on PBS in 2017. In September, a television crew came to Ottawa during Cowboy Days to film "Behind the Scenes," a short segment narrated by James Earl Jones. The Old Depot Museum's manager, Diana Staresinic-Deane, is one of many Franklin County residents interviewed for the program, which will air in 2017 on PBS stations across the United States.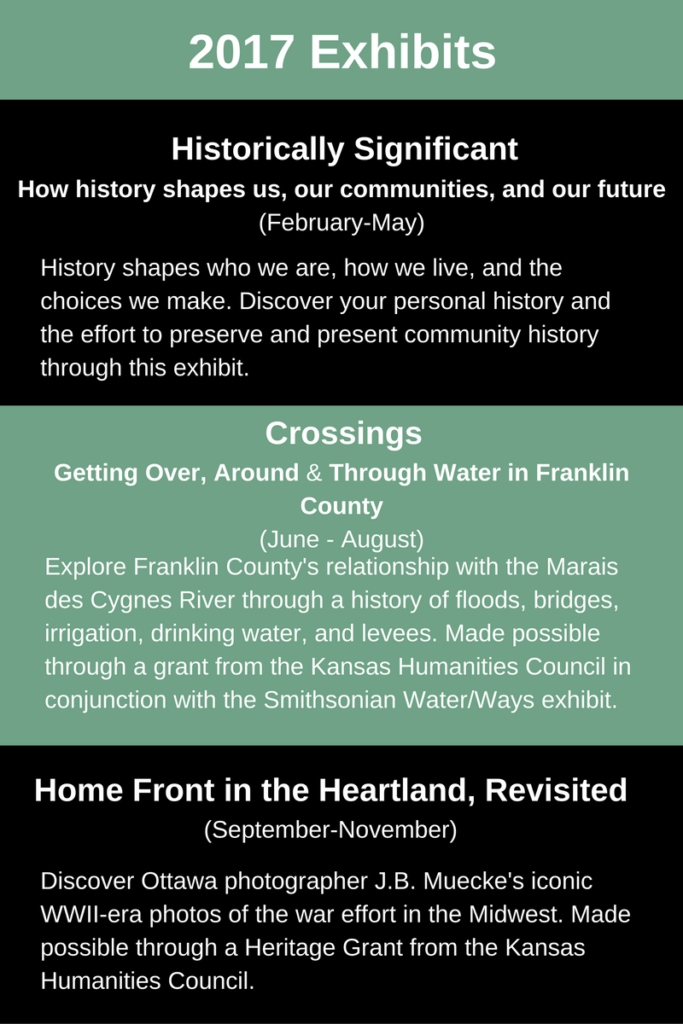 And now you're wondering,
"But what do *I* get if I become an FCHS member?"
In addition to feeling great about supporting the kinds of programs and exhibits mentioned above, members receive
Free Admission to the Old Depot Museum any day the museum is open
10% off at the Old Depot Museum Store
Coupons for free or discounted tickets to special events and programs
Did we mention the warm fuzzies for supporting a great organization?
Membership Levels:
| | |
| --- | --- |
| Student Level | $10.00 |
| Individual Level | $25.00 |
| Family Level | $45.00 |
| 1937 Level | $75.00 |
| A.P. Elder Level | $125.00 |
| Cabin 150th Level | $150.00 |
| Ben Park Level | $250.00 |
| Jacob Dietrich Level | $500.00 |
| Trainmaster Level | $1,000.00 |
| Isaac Kalloch Level | $5,000.00 |
Questions? Call (785) 242-1232 or email barkerd@olddepotmuseum.org.