What is the mission of the museum?
To present Franklin County's history to visitors and citizens of the county by means of exhibits, educational programs and publications.
Where is the museum?  How do I get there?
The museum is located at 135 W. Tecumseh Street in Ottawa, half a block from the intersection of Main Street and Kansas Highway 68.  Exit 187 off I-35 leads you to that intersection.  Tecumseh Street is one block south of it.  We are located directly behind the Co-op building and grain elevator.  Convenient map here.
How much does it cost to visit?
Beginning July 1, 2017: $5 for adults, $4 for adults 55+, and $2 for students. Admission for preschoolers and FCHS members is always free. Beginning in September 2017, admission for Franklin County, Kansas, residents will be free on the second Sunday of each month.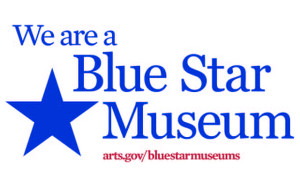 Do you participate in the Blue Star Museums program?
We're very proud to be one of 2000+ Blue Star Museums offering free or reduced admission to active-duty military and their families. The Old Depot Museum offers free admission to those who qualify from Memorial Day through Labor Day.
Are group rates available?
Beginning July 1, 2017, Groups of 10 more who book IN ADVANCE are eligible for a $4.00 per person rate. We also offer a special group rate for student groups. Please contact the museum for more information.
Are there tours available?
Yes, guided tours are available through advance reservation.
Do I have to make advance reservations to visit the museum?
You do not need a reservation to visit the museum during normal hours. However, if you would like to schedule a tour or be eligible for a special group rate (for groups of 10 or more), please contact the museum in advance.
Is there a museum store?
There is, and it carries books, DVDs, clothing, many child friendly items, and various locally-crafted items.  We  have something for everyone.
Is there gas and/or food nearby?
There is a gas station on the corner of K-68 and Main Street, less than a block from the museum.  Information on restaurants in Ottawa is available at the museum front desk or at the Franklin County Convention and Visitors Bureau.
Is there any shopping we can do while in Ottawa? There are plenty of wonderful shops to peruse while in town.  Just around the corner from the museum is Ottawa's Historic Main Street full of thriving businesses (including many antique stores).
How long does it take to see the museum?
We've had people take hours, and we feature a 45-minute video of Ottawa in the 1930s, but one can get a good look at the 12 exhibit rooms in about an hour.
Is the museum handicapped accessible?
Yes, there is an elevator and accessible restrooms.
How often do the temporary exhibits change?
On average, we rotate the exhibits in the temporary gallery three times a year.
Are there educational or cultural programs available?
Advanced reservations can provide museum curator talks and other programming.
Is there Membership?  How can I join?
See the Membership page on this website here. Membership levels go from Individual at $25 to Trainmaster at $1000.
What affiliations does the Old Depot Museum have?
The museum is a partner of Freedom's Frontier National Heritage Area, a 41-county consortium of eastern Kansas and western Missouri which share the stories of the Border War and "Bleeding Kansas" story, among others.  The museum is also a member of the Kansas Museums Association and the Kansas Historical Society.
Can I volunteer to work at the Old Depot Museum?
You sure can!  We have a volunteer and internship program.  Please contact Deborah Barker at barkerd@olddepotmuseum.org or 785.242.1232.
How do I find out what other events or sites there are to see in Franklin County?  Visit the Franklin County Convention and Visitors Bureau in person or online.
I am doing research involving Franklin County.  Is there someone on staff that can answer my questions or help me out?
The Museum staff welcome public interest in learning about Franklin County, and recommend contacting our Franklin County Records and Research Center at 785.242.1232.  See the page on this website here.
Share this: