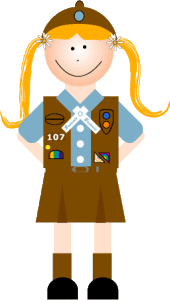 To learn more about registering your scouts for a workshop, click here.
Brownie Workshops
My Family Story
Hear a story about a local family that lived on the Kansas frontier before Kansas became a state. Bring an object that means something to your family and share your story with your group. Crafts and a History Hunt will make this a fun event.
Senses
Explore the museum and listen to the sounds around you. Put your nose to work and discover what might be cooking in the kitchen. Be creative and make some of your own touch-and-feel crafts.
Juniors Workshops
Playing the Past
Girls will have some old-fashioned fun playing a child from the late 19th century. Experience some daily taks, school life, and make a toy that children would have played with.
Inside Government
Explore laws that affect us every day. Decide what an active citizen means to you. Learn about a prominent citizen that grew up on the frontier that is now Franklin County and became very involved in our government. Create some crafts and have fun exploring the museum.
Cadette Workshops
Finding Common Ground
How can we bring people together? We will explore a civil debate that took place in the state of Kansas many years ago. The girls will also learn about the turmoil that took place in this area before Kansas was approved for statehood. Craft activities and exploration of the museum will also be included in this workshop.
Share this: