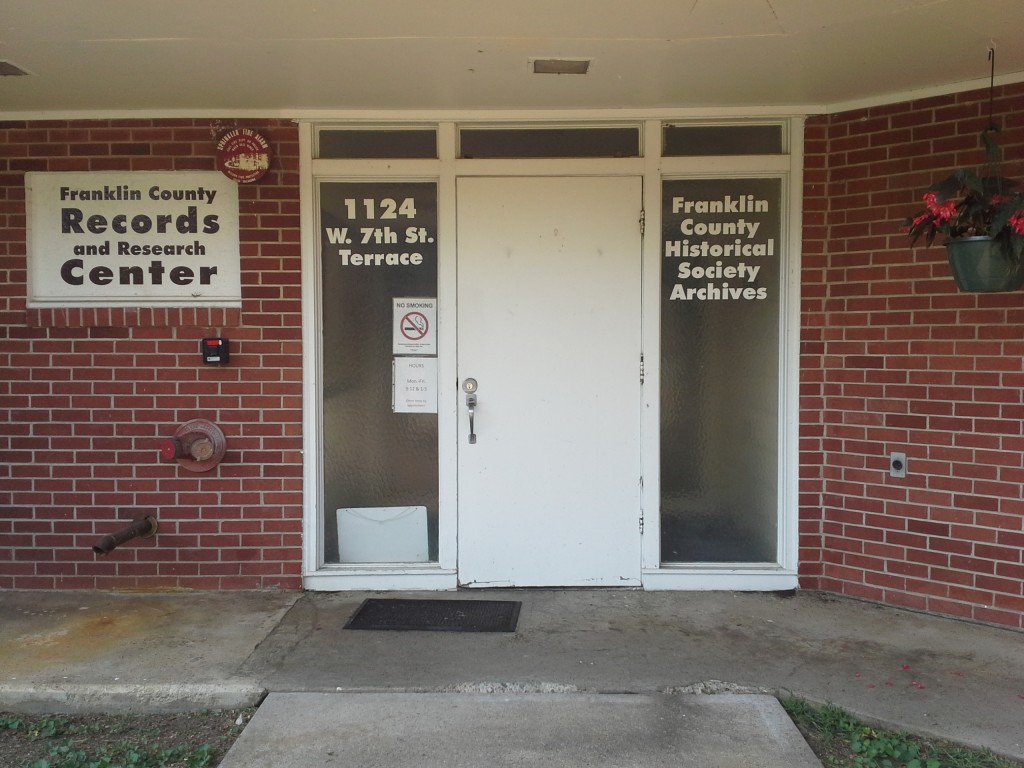 Location and Hours:
1124 W 7th Street Terrace, Ottawa, Kansas, 66067
phone: (785) 242-1232  fax: (785) 242-1267
Monday-Friday, 9 a.m. to Noon, 1 p.m. to 5 p.m. Closed national/county holidays.
How is the Franklin County Records and Research Center different from the Old Depot Museum?
The Franklin County Historical Society is home to more than 30,000 photographs and 30,000 objects and archival documents. Only a very small portion of this collection is on display at the Old Depot Museum at any given time. The rest of the collection is safely housed at the Franklin County Records and Research Center. The Records Center also houses searchable biographical files, school records, and other information useful to researchers and genealogists. The building is open to the public, and visitors are always welcome. Two of our biggest collections include the J.B. Muecke Photographs and the Rural School Records of Franklin County.
Is the Records Center open to researchers and genealogists?
The Records Center houses many artifacts, documents, and photographs that provide valuable information to genealogists and researchers. If you are working on a specific research project, it is helpful if you call ahead to let our staff know so that we are prepared to give you the best assistance possible.
Does the Records Center charge admission/fees for research assistance?
Admission to the Records Center is free.
The first hour of assistance is always free, but fees may apply to additional hours of staff time as well as photocopying and scanning.
Will the FCHS grant permission to use photos/images/documents for print/media/film?
Our ability to grant permission varies with the materials in question, but the FCHS does have a fee schedule designed to help recover the costs of our time and effort to locate and properly scan materials for publication. Please contact us at (785) 242-1232 for more information or use the form below.
Does the Records Center have speakers available for schools and community events?
Through our day-to-day research, our Records Center staff members have become experts on many Franklin County topics! If you're interested in having us speak about history, research, or the museum industry at your club, event, or school, please contact us at (785) 242-1232 or via the form below.
Do you have questions for the Franklin County Historical Society? Send us a message using the form below.
[contact-form-7 id="1784″ title="FCHS Contact Form"]
Share this: